November 21, 2013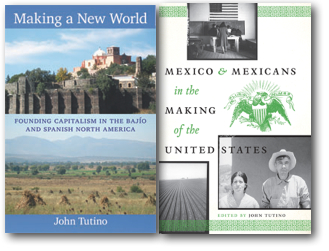 New book review, from Literal Magazine 34, 2013:
Making a New World: Fouunding Capitalism in the Bajío and Spanish North America
By John Tutino
and
Mexico and the Mexicans in the Making of the United States
Edited by John Tutino
Literal Magazine 34, 2013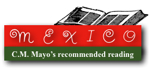 Updates on Book Reviews page
Updates on the Recommended Books on Mexico page.

September 17, 2013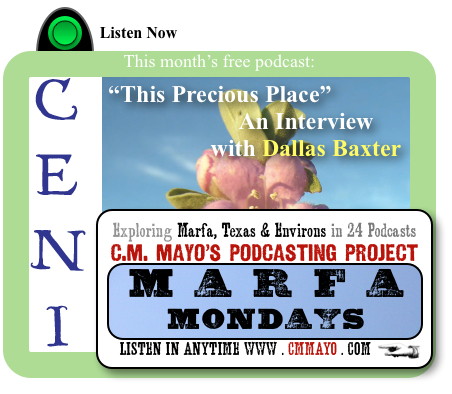 The Marfa Mondays podcasts have resumed with the interview with Dallas Baxter, founding editor of Cenizo Journal, talking about the wonders and challenges of the Big Bend and starting a print publication in the digital age.

(Why the hiatus in the Marfa Mondays podcasts? Read all about the metaphorical asteroid.)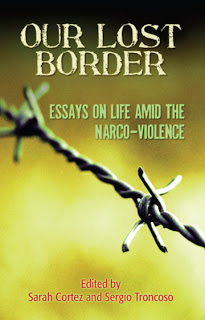 August 5, 2013

New book review in Literal:

Our Lost Border: Life Amid the Narco-Violence,
Edited by Sarah Cortez and Sergio Troncoso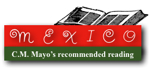 Updates on Book Reviews page
Updates on the Recommended Books on Mexico page.


June 28, 2013
Over on my events page and workshop schedule page:
Mark your calendars for Saturday October 26, 2013 for the Writer's Center's second-annual Publish Now!, a seminar on publishing a book or eBook in the new digital age in Bethesda MD (just outside Washington DC). Whether still working on your manuscript or ready to publish, this "how-to" program is designed to give you the information you need to take control of your publishing experience.
Saturday, October 26, 2013, 9 a.m. - 5 p.m.
Early Registration (by Oct. 1): $100; $85 Writer's Center members; $50 students (with valid ID)
To register, visit www.writer.org/publishnow/enroll
The Writer's Center | 4508 Walsh Street | Bethesda, MD 20815 | p 301.654.8664
I'll be talking about Kindles and interactive iBookstore ebooks.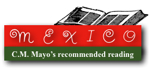 May 22, 2013
New reading list of recommended books on Mexico, plus new guest-bloggers at Madam Mayo blog.


April 23, 2013

Interview with C.M. Mayo by Jon Winokur.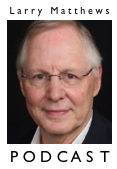 April 13, 2012

Radio veteran and author-podcaster Larry Matthews talks with C.M. Mayo about the strange and surprisingly Washingtonian story of The Last Prince of the Mexican Empire, and the Marfa Mondays podcasts, and far (far) West Texas. (Larry Matthews podcasts)

March 19, 2013
Just posted: Podcast #11 in the 24 podcast series, "Marfa Mondays: Cowboy Songs by Cowboys— and an interview with Michael Stevens"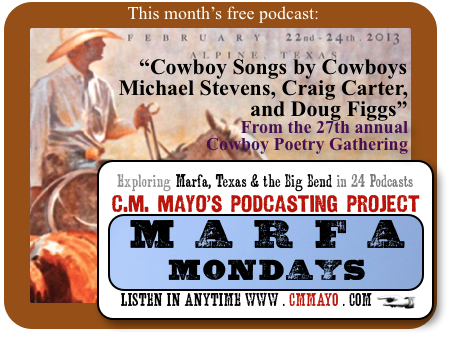 March 9, 2013


For Mexicophiles, for readers & explorers, and for writers & podcasters: an all new web page within the webpage: Free for You, an archive of downloadable free ebooks, on-line articles, podcasts, and much more.

March 1, 2013
Brand new blogger blog, check it out: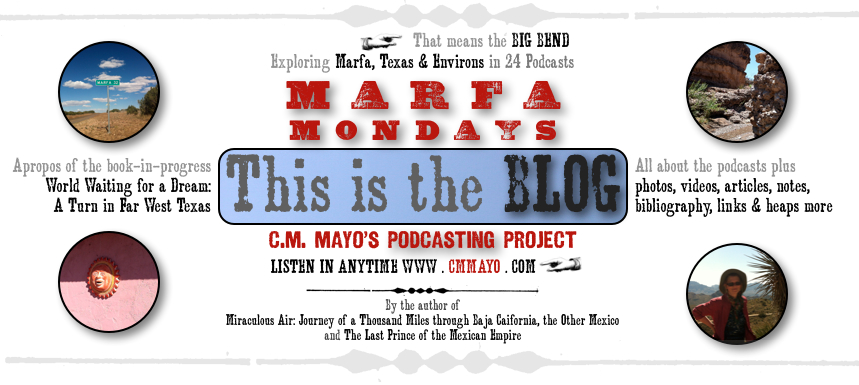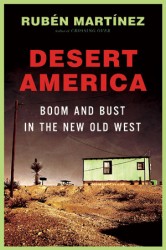 February 18, 2013

New book review, of Rubén Martínez's Desert America: Boom and Bust in the New Old West, in the Washington Independent Review of Books.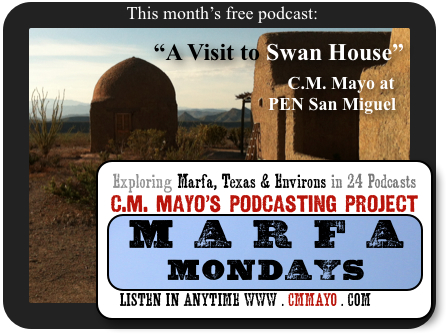 Spotlight on C.M. Mayo over at Lisa Carter's Intralingo Blog, on getting started in literary translation, translating Mexican writers Agustín Cadena and Mónica Lavín, and tackling the translation of Francisco I. Madero's secret book of 1911. February 13, 2013.

New on the events page

>Read C.M. Mayo's comments (en español) about this book, for its presentation in Chapultepec Castle, February 12, 20013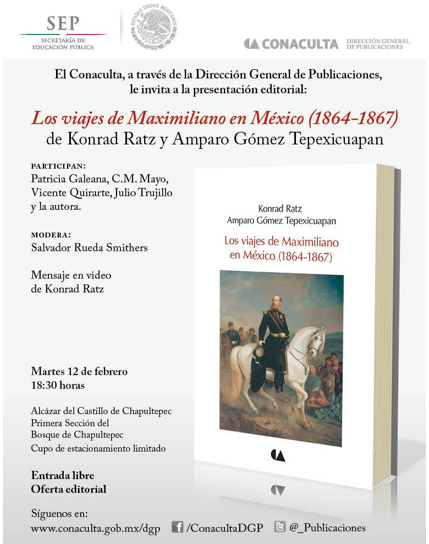 January 28, 2012
Newsletter posted. Read it here. Better yet, subscribe!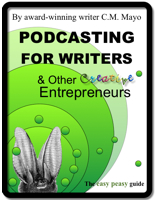 January 22, 2012
The interactive ebook, Podcasting for Writers & Other Creative Entrepreneurs (Dancing Chiva) is now available in both Kindle and iBook formats.



January 2013
Marfa Mondays Podcast #9: Mary Baxter, Painting the Big Bend.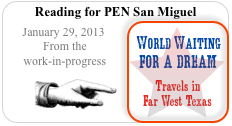 January 2013
Reading from work-in-progress, travel memoir about the Big Bend, 6 pm Teatro Angela Peralta, January 29, San Miguel de Allende PEN. See events.

> old news