Podomatic + iTunes + Transcript
(APPROX 40 MINUTES)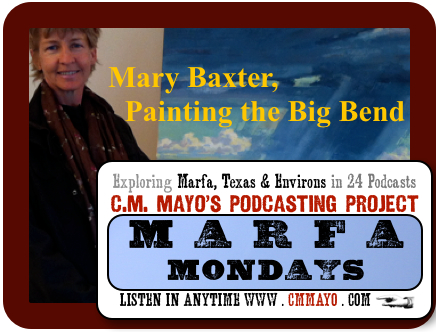 Mary Baxter came to Marfa years ago for the horses and cattle business and stayed to paint the sky-haunted landscapes. Recently returned to Marfa after a decade in (relatively nearby) Marathon, Texas, Mary Baxter talked to C.M. Mayo in her sun-filled studio in October 2012.

View some of Mary Baxter's works at www.baxtergallery.com

Read her biography and view more works at Hunt Gallery
.
Your comments are always welcome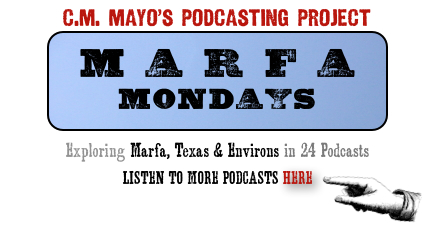 "What is this human urge that you want to record what you see? It must go back to prehistoric times when people painted on the cave walls the animals that they saw. So I can't explain why we do it. You know, nothing is as good as being there and seeing it, just being in the landscape. But there's this urge to say, 'I'd like to try to translate this. These colors, or these shapes, or these animals, and this moment, and at this place."

...— Mary Baxter