Welcome to my digital media page.

EBOOKS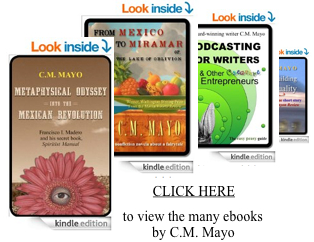 FEATURED PODCAST SERIES



Marfa Mondays

Exploring Marfa, Texas & Environs in 24 podcasts, apropos of a book-in-progress about Far West Texas. Listen in!





Conversations with Other Writers


Yours Truly interviews other writers I am curious to learn more about, and whose work I admire and celebrate. Listen in!





ALL PODCASTS



FEATURED BLOGS



Madam Mayo
Posts here every Monday, except when not, and oftentimes more often on books, Mexico, Far West Texas, literary translation, tips for creative writers, cyberflanerie, and occasional interviews and guest-blogs.


Maximilian ~ Carlota
Resources for researchers of the tumltuous period of Mexican history known as the Second Empire or "French Intervention."



ALL BLOGS



FEATURED VIDEOS

Mini-Travel Clips
Brief, edited visual appetizers







ALL VIDEOS