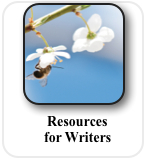 Selected Writers Associations and Related Organizations

The Authors Guild

Council of Literary Magazines and Presses
Many links! A great place to learn about the many literary journals being published today.

Independent Book Publishers Association (IBPA)
These days, whether you're a beginner or one with several books previously published by large commercial houses, you may want to consider some self-publishing. The IBPA is great organization for micro and small publishers, including self-publishers.

National Novel Writing Month

PEN


My member page
Women Writing the West


Read my report on the 2014 conference in Golden, Colorado.




Washington DC Area

Writers Room DC

Maryland Writers Association
Monthly meetings and more, including an annual conference

¡Viva la Vida Literaria!
Spanish language resources for Washington DC writers and translators

Washington Independent Writers Association
Now the national American Independent Writers Association (see below).

Women's National Book Association
Men are also welcome.

The Writers Center
Writing workshops, readings and a book store in Bethesda, Maryland.


Remembering Ann L. McLaughlin. A tribute to a dear friend, the novelist and reknowned writing teacher. Originally published in Madam Mayo blog, December 18, 2017.


Miscellaneous



Conversations with Other Writers Podcast
Listen in anytime to my interviews with writers, including Mexican writer and poet Rose Mary Salum, historian Michael K. Schuessler, novelist and sculptor Edward Swift, novelist and essayist Sergio Tronoco, memoirist and journalist Sara Mansfield Taber, and novelist Solveig Eggerz, among others.

Lubuto Library Project, Inc.
This is wonderful charity for Africa's street children was founded by Washington DC librarian Jane Kinney Meyers.

Feng Shui for Real Life
Carol Olmstead's feng shui site. Hey, the universe is holographic. And click here to read her top Feng Shui tips for writers.

The 5 Keys to Mastery
DVD inspired by the book, Mastery, by George Leonard.

SheWrites
Online community for writers.

Work-in-Progress
An excellent and frequently updated blog by novelist, short story writer and writing teacher Leslie Pietrzyk.

Write On Online
Managed by LA based writer and writing coach Debra Ecklerling. A very good free newsletter.

Writing It Real
Writer and poet Sheila Bender's on-line magazine. Highly recommended.