M.M. McALLEN
Main (Notes) + Podomatic + iTunes + Transcript
(APPROX 1 HOUR AND 22 MINUTES)



A conversation with M.M. McAllen about her book Maximilian and Carlota: Europe's Last Empire in Mexico. Recorded in the Twig Book Shop in San Antonio, Texas, in October 2015; posted January 2016.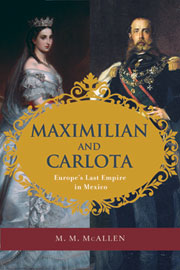 Your comments are always welcome. Write to me here.

Visit M.M. McAllen at www.mmmcallen.com