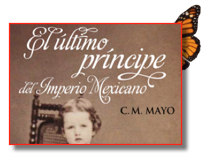 November 27, 2010 Guadalajara, Mexico
Feria Internacional del Libro
6 pm
Salón Elías Nandino, planta alta, Expo Guadalajara
Presentation of the novel El último prpincipe del Imperio Mexicano (Grijalbo Random House Mondadori) with editor Andrés Ramírez, historian Alejandro Rosas, and novelist Carlos Pascual.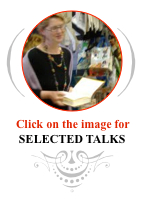 November 9, 2010 Mexico City, Mexico
University of Chicago Alumni Association.




October 15, 2010 Leonardtown, Maryland
College of Southern Maryland. Reading, dicussion and book signing. for The Last Prince of the Mexican Empire. Leonardtown campus auditorium @ 7:30 pm
Details: click here.







September, 2010 Mexico City, Mexico
To be announced: events for the publication of El último príncipe del Imperio Mexicano (Random House Mondadori), the Spanish translation of The Last Prince of the Mexican Empire (Unbridled Books). Want news? Click here to join the mailing list.




May 22, 2010 Bethesda MD
Lit Artlantic Festival (download the PDF flyer here)
12 - 1 pm
Panel discussion: The Writer's Life: A Report from the Field, featuring documentary film maker David Taylor; novelist C.M. Mayo; journalist Alan Elsner; and memoirist Kevin Quirk, in a lively discussion about their lives as professional working writers. Lit Artlantic, a regional three-day festival celebrating cross-currents in the arts. The festival is scheduled for May 20-22, 2010, at The Writer's Center, 4508 Walsh Street, just a few blocks south of the Red Line's Bethesda Metro stop. All festival events, including the AIW panel, are free and open to the public. For more information about the panel, visit the AIW web site, www.amerindywriters.org. For information on the festival as a whole, call The Writer's Center at (301) 654-8664 or visit their web site at www.writer.org.


April 21-22, 2010 Austin TX
Harry Ransom Center, and other events at ther University Texas at Austin.

April 8, 2010 Denver CO
Associated Writing Programs Conference
Panel discussion: Class and Conflict On The Other Side of the World
10:30 AM to 11:45 AM
Scheduled Room: 210, 212 - Colorado Convention Center
R137. Class and Conflict on the Other Side of the World. (Masha Hamilton, Thrity Umrigar, C.M. Mayo, Rishi Reddi) As we become more globally linked, the role of fiction in providing a human and humane glimpse of "the other" becomes more important. But it is a challenging task. How do writers develop confidence to tell stories of cultures and countries where they don't reside? Why are such stories critically important? Authors—who between them write about everywhere from Asia to the Middle East to Africa to Mexico—explore this issue.


Visit my Workshop Page for more workshops and a rich array of resources for writers

March 25-28, 2010 Rehoboth Beach MD
Writers at the Beach Writers Conference
C.M. Mayo to read and also offer a mini-workshop on Point of View.
Schedule to be announced.
The choice of Point of View (POV) is, as many writers have argued, the most important single decision that the novelist has to make. It is also, for many writers, even experienced writers, a source of confusion, and at times seems almost random. Third person, first person…it seems like a simple pronoun choice, yet it affects everything, plot, character develpment, the pacing of the story—everything. In this workshop for intermediate or advanced writers, discuss the nuance of point of view and explore in your work, how different POV's result in different story structures, plots, even the use of flashback and flash forward.


Visit my Workshop Page for more workshops and a rich array of resources for writers

March 19, 2010 Charlottesville VA
Virginia Festival of the Book
True Stories of Fact & Fiction:
2 pm
A panel with C.M. Mayo (The Last Prince of the Mexican Empire): Lenore Hart (Nevermore); A. Roger Ekirch (Birthright); modertaor: Larry Baker. Central JMRL Library, 201 E. Market St, Charlottesville VA. Full details about this event here.

March 7, 2010 Bethesda MD
The Writers Center
10 - 5 pm. (one hour break for lunch)
Dialogue Intensive
One day only workshop with C.M. Mayo.
One of the most powerfully vivid ways to show character, relationship, conflict and/or mood is through the use of dialogue. For both beginning and advanced fiction and nonfiction writers, this workshop focuses on the use and misuse of dialogue, with a series of mini-lectures interspersed with brief exercises. The goal is that by the end of the workshop, your dialogue will be of notably higher quality. For more information and to register on-line, click here.


Visit my Workshop Page for more workshops and a rich array of resources for writers

March 5, 2010 Leesburg VA
Leesburg First Friday www.writer.org
"Staying Focused: Researching and Writing the Longer Book Project"
7:30 - 9:30 p.m.
Leesburg Town Hall 25 West Market Street, Leesburg VA
C.M. Mayo to talk about what she learned in writing her novel, The Last Prince of the Mexican Empire, her travel memoir, Miraculous Air, and other books, with plenty of Q & A.
To finish the marathon of writing a long book, more than talent, more than free time, more than anything, in fact, a writer needs mental toughness to avoid the myriad distractions, damaging self-talk, frustrations, and sometimes just plain old boredom along the way. C.M. Mayo, a long-time Writers Center workshop leader and author of several books, including a deeply researched travel memoir and, most recently, an epic historical novel based on the true story (and many years of original archival research), offers tips, tricks and more to inspire you to start, stay with, and finish your book.
To register on-line, click here.


Visit my Workshop Page for more workshops and a rich array of resources for writers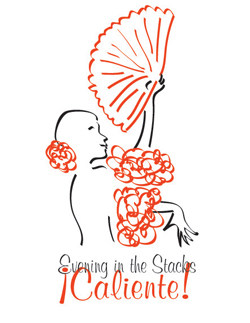 February 27, 2010 Columbia MD|
Fundraiser for the Howard County Library: Evening in the Stacks "¡Caliente!"
7:00 to 11:00 pm
Howard County Library, East Columbia Branch
6600 Cradlerock Way, Columbia, MD 21045.
Join the party and support the Library. Escape the February chill and revel in a warm Latin am
biance - full of bright flowers, flamenco, a silent auction, and a literary conversation with Francisco Aragón, H.G. Carrillo, and C.M. Mayo, facilitated by Bill Thompson. Dance the night away to the sounds of Latin Grammy Award winners, Afro Bop Alliance. Delicious cuisine from Azul 17, Elkridge Furnace Inn, El Nayar, La Prima Catering, On the Border, Parfections, and Lincoln College of Technology Columbia Campus in conjunction with Holly Poultry and Martin Seafood. New this year - Celebrity Bartenders! Some of Howard County's favorite people will be putting their spin on a signature cocktail for a limited time during the evening. Make sure to stop by and say hello to State Senator Jim Robey, Howard County Executive Ken Ulman, Stacie Hunt and Kevin Kelehan, Donna Richardson, Rachelina Bonacci, and Dick Story. Proceeds benefit the Library's educational initiatives, including A+ Partners in Education, Project Literacy, and Cultural Connections. To purchase tickets, visit: http://hclibrary.org/index.php?page=330
February 22 - 23, 2010 San Miguel de Allende, Mexico
Techniques of Fiction 2 Day Workshop with C.M. Mayo
San Miguel Workshops
A special two day workshop with C.M. Mayo
Uniquely geared toward both beginning and advanced writers, C.M. Mayo's creative writing workshop emphasizes techniques for tapping into creativity and specific aspects of craft. As at the Bethesda, Maryland Writers Center where Mayo has taught highly popular workshops since 1999. In this session you will focus on generating new material with exercises addressing: specificity, point of view, synesthesia, imagery, image patterning, plot and more.


Visit my Workshop Page for more workshops and a rich array of resources for writers

February 16, 2010 San Miguel de Allende, Mexico
International PEN San Miguel Center, PEN Reading Series.
C.M. Mayo to read from and sign The Last Prince of the Mexican Empire.
6 pm
San Miguel PEN 2010 Winter Lecture Series
Miguel Malo auditorium in Bellas Artes.