Book Review by C.M. Mayo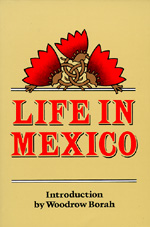 LIFE IN MEXICO
by Frances Calderon de la Barca
University of California Press, 1982 ISBN: 0520046625, pp. 548
Review originally published in Tin House Vol. 2, No. 1, Fall 2000




First published in 1843, Frances Calderón de la Barca's classic memoir of two years of residence and travel in Mexico remains in print, albeit obscurely, seldom emerging from the chilly recesses of academic bibliographies. For anyone interested in Mexico, however— and that ought to be every man, woman and child in the United States, for among other things, Mexico shares our 2,000 mile border and has now become our second largest trading partner— Calderón de la Barca's Life in Mexico is both essential and wickedly delicious reading.

She was— it is no exaggeration— Mexico's Tocqueville, but if that ploddingly perceptive Frenchman's Democracy in America is one great boiled sausage of seriousness, Calderón de la Barca's Life in Mexico is a confection as strange and marvelous as Mexico itself. Stranger still in matters of (if literary) haute cuisine: the author was Scottish, née Frances Erskine Inglis. She married the Spanish diplomat Angel Calderón de la Barca in 1838; one year later they sailed for Mexico, where he was to serve as Spain's first ambassador to its still very raw and violent ex-colony.
Revolutions, earthquakes, exotic flowers and snow-capped volcanoes: rich ingredients for even the most burn-the-toast kind of chronicler. But Calderón de la Barca is shrewd and skilled as any novelist at stirring in the pinch of detail. For their first official visit, they arrive at a remote hacienda, which is surrounded by bamboo huts, "the Indian women with their long black hair standing at the doors with their half-naked children... snow-white goats browsing amongst the palm-trees, and the air so soft and balmy, the first fresh breath of morning; the dew-drops still glittering on the broad leaves of the banana and palm, and all around so silent, cool, and still." This is Manga de Clavo, the personal stronghold of none other than General Santa Anna. After a sumptuous breakfast, the General's wife— who wore "clear white muslin and white satin shoes, and with very splendid diamond earrings, brooch, and rings"— opened her cigar-case "which was gold, with a diamond latch," and lit herself a "cigarito".
This is Mexico, cracked open, alive. Though "yesterday," Calderón de la Barca later observes, "I saw a dead man lying near the Longa (the Exchange) and nobody took any notice of him." The Mexican capital was a filthy place. Even on the floor of the cathedral, "one kneels with a feeling of horror, and an inward determination to effect as speedy a change of garments afterwards as possible. Besides, many of my Indian neighbors were engaged in an occupation which I must leave to your imagination"(which was to say, picking lice off each others' heads). Little else phases the Spanish ambassador's wife, however. Accosted by léperos she complains, "What groans! What rags! What a chorus of whining!" As for the bloody business of los toros, she judges (italics hers): "It beats fox-hunting."
But she delights in charming scenes: an orange grove; a Christmas pageant with all the children dressed as angels; the Archbishop "leaning back in his carriage, dressed in purple, with amethyst cross, and giving his benediction to the people as he passes." But here, as elsewhere, her pen probes deeper, and with surgical precision. The Archbishop, she writes on, "seems engaged in a pleasant revery, and his countenance wears an air of the most placid and insouciant content. He enjoys a good dinner, good wine, and ladies' society, but just sufficiently to make his leisure hours pass pleasantly, without indigestion from the first, headaches from the second, or heartaches from the third. So does his life seem to pass on like a deep untroubled stream, on whose margin grow sweet flowers, on whose clear waters the bending trees are reflected, but on whose placid face no lasting impression is made."
The Calderón de la Barcas ventured out from Mexico City several times, visiting small towns, caves, and pyramids— brave, hard traveling, for often they had to ride on horseback down steep rock-strewn canyons, and through forests swarming with bandits. Always she was astonished by Mexico's grandeur, the sweeping vistas of volcanoes, the starry nights and vast and solitary expanses. "It is not sad," she tells us. "It is a sensation of being entirely out of this world."
---