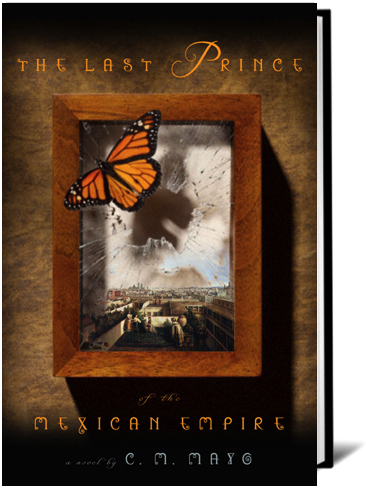 A Book Group Meeting Menu

By C.M. Mayo
(Originally published as a guestblog for Bookreporter.com)
Apart from controversy, there's nothing better than some yummy cake and jolt of coffee to get a book group going. For The Last Prince of the Mexican Empire, my novel based on the true story of 19th century Mexico, I beg you, skip those gloppy nachos and so very twentieth-century-American-tourist "margaritas"; they would not only put everyone to sleep, but they would be no more appropriate than, say, hamburgers and Pepsi for Gone with the Wind. May I suggest some café de olla and Mrs. Yorke's raisin cakes? Recipes follow.
Who is Mrs. Yorke, and what is she doing in a novel about Mexico? She's the queen of Mexico City's American society circa 1865, and based on a real person, the Louisiana-born wife of a banker. She is also the mother of Sara Yorke Stevenson, then a little girl, who in fact grew up to become a leading archeologist and author of the justly famed memoir, Maximilian in Mexico: A Woman's Reminiscences of the French Intervention 1862-1867. You can read about Mrs. Yorke and her daughter, along with the whole "tussie-mussie," that is, the novel's cast of dozens more Americans, Frenchmen, Austrians, Italians, Belgians, Englishmen, Spaniards, Hungarians, Prussians, and yes, of course, many Mexicans here.
(Strictly speaking, the most appropriate cake for this novel would have to be Doña Juliana de Gómez Pedraza's. That's right, Mexico experts, she's none other than the widow of Gómez Pedraza, two-time President of Mexico in that wacky merry-go-round of 19th century Mexican politics. Though Doña Juliana plays a far more important role in the novel than her friend Mrs. Yorke, alas, her recipe requires overgenerous quantities of lard and, as baked by Chole, her hateful and elderly cook, the crust would come out burned and the middle gooey.)
Moving beyond cakes, herewith a few more toothsome items from the novel that would be simple to prepare and serve:
Mrs. Green's boiled asparagus with butter, salt and white pepper
Austrian bonbons (wrapped in fancy foil, and presented in a Mexican clay pot)
Lupe's sliced raw jicamas with salt, lime and chili powder
Lime, mango, watermelon and/or papaya sorbets (in Spanish these are called nieves)
Frau von Kuhacsevich's favorite plum tart (buy that one at your local European-style bakery) with whipped cream
Pistachio ice cream with whipped cream
Apple pie with whipped cream (Father Fischer's favorite)
Sweet potato pie with whipped cream
Strawberry pie with whipped cream (Zounds! There's a lot of whipped cream.)
If you want things to get a little more exciting, you might also consider serving:
Italian pink champagne (served at the Emperor Maximilian's Imperial Balls)
Tequila, served with lime wedges and salt for the rim of the shot glass
Tepache (Mexican pineapple liquor)
Mezcal, with the maguey worm at the bottom of the bottle
The two recipes:
CAFE DE OLLA
Brew a pot of coffee. Stir in some piloncillo* and as much cinnamon as you can stand. A sprinkle of ground cloves. A big chunk of chocolate (the darker the better). Stir over low heat until blended. Ladle the café de olla (scooping chocolate from the bottom) into earthenware mugs.
*A cone of molasses and spices. Cover with a tea towel before you whack it with a hammer; then let a piece of it melt in the coffee. If you're nowhere near an Hispanic grocer, a good (if less toothsome) substitute is brown sugar.
MRS. YORKE'S RAISIN CAKES
Steep raisins in cognac for several hours. Add toasted and sliced nuts of whatever kind happen to be handy. (Drain raisins. Save the cognac for marinating duck. But don't worry about the duck because there is no duck.) In a separate bowl mix 2 cups flour, big dash of cinnamon, petit dash of clove, trés petit dash of nutmeg, and a teaspoon of baking powder. In a second bowl, beat one egg, dash of milk, 1/2 cup softened butter. Then, oh so gently, as if to a largo by Schubert in a minor key, with just enough effort to evenly distribute the raisins, stir it all together. Spoon batter into greased muffin tins. Bake until fork tines come out clean. Once the cakes have cooled, top each with a pat of honey and a flower from your garden. Serve on your fanciest china. And if a few plates are chipped? C'est la vie.


COMMENTS always welcome.