Book Review by C.M. Mayo


U.S.-MEXICO BORDER MEMOIR:
A SLOW TROT HOME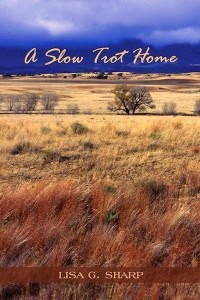 by Lisa G. Sharp
Wheatmark, 2014
pp. 224
ISBN-10: 1627870741
ISBN-13: 978-1627870740
Review originally published in Madam Mayo Blog, October 13, 2014

It was thanks to Women Writing the West that I first came upon the extraordinary writing of Lisa G. Sharp. Mexicans sit up and take notice when I mention that she's the granddaughter of the owner of the Greene Cattle Company, which had its headquarters in Cananea, a place synonymous with an infamous massacre in the years leading up to the Mexican Revolution. But to get beyond that: A Slow Trot Home, Sharp's memoir about growing up, first in her grandmother's house in Cananea, and then for most of her life on San Rafael, a working cattle ranch a scooch north of the border in a remote corner of Arizona, is one of the most beautifully written and moving memoirs I have ever read. The sweep of the land, the peace and violence of the sky, the people, both Mexican and American, and all the animals, come alive with a rare vividness. It's poetic prose that, in places, breaks open into poetry itself, as with this list in the chapter "Winter":
By the end, as she returns to visit her mother's lonely grave, one understands what this is: an elegy for a world that is no more. Now the SUVs rumbling by might more likely carry birdwatchers or Border Patrol officers than ranchers or ranch hands. 9/11 changed everything on the US-Mexico Border. And in what had been velvet nights, electric lights from Mexico glow on the horizon.
Literati will note that this is self-published. I think that says far more about the state of publishing than it does this splendid book. I recommend it for anyone interested in a fine read, and especially for anyone interested in ranching culture and the US-Mexico border region.
---